Hailey Bieber took a break from her usual Instagram activity this year to be open about her mental health. The model revealed in an Instagram Story on Wednesday that she has been struggling privately this year. While she did not explicitly mention the harassment she faced during TikTok's viral dissection of her treatment of Justin Bieber's ex Selena Gomez in February and March, she did make no secret of the fact that this has been one of her "hardest" years ever.
"I like to make jokes about how I feel because it's sometimes easier than admitting I'm having a hard time," she wrote. But, since the start of 2023, I've had some of the saddest, hardest moments of my adult life, and my mind and emotions have been fragile to say the least. And I know other women feel the same way I do, so know you're not alone."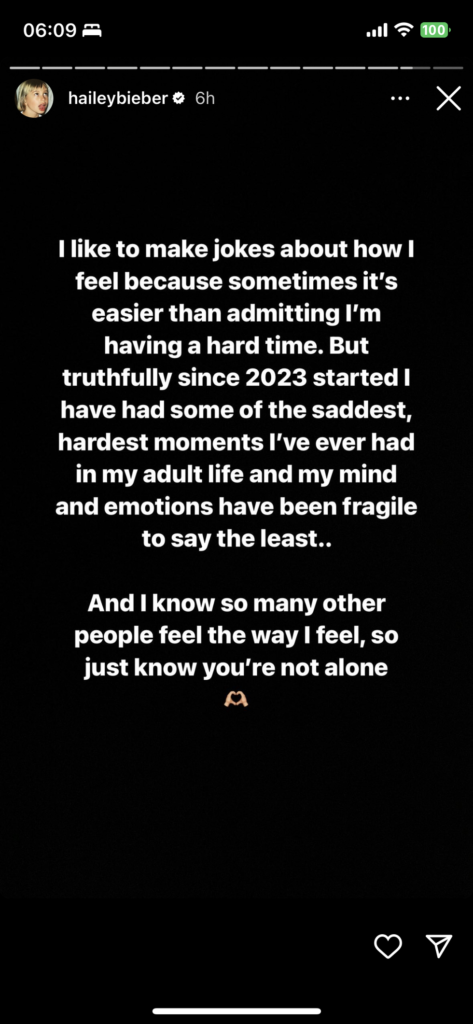 Hailey previously touched on how she has been doing privately when she shared a statement about the TikTok debate. Gomez previously stated that Hailey had received death threats and asked fans to stop the bullying. Hailey thanked Gomez and stated that everyone could benefit from being kinder.
Hailey revealed:
I'd like to thank Selena for speaking out, as she and I have been discussing how to move past this ongoing narrative between us over the last few weeks.
The last few weeks have been extremely difficult for everyone involved, and millions of people have witnessed an outpouring of hatred, which is extremely harmful. While social media is an incredible tool for connecting and building community, incidents like this only serve to divide people rather than bring them together.
Things can always be taken out of context or interpreted in ways that are not intended. Everyone, including myself, needs to be more careful about what we post and say.
In the end, I believe that love will always triumph over hatred and negativity, and that there will always be opportunities to meet each other with greater empathy and compassion.
Hailey's Instagram Story comes after the model released her cooking show "What's In My Kitchen" earlier this month. Some online immediately compared it to Selena Gomez's HBO Max series Selena + Chef and accused Hailey of social media plagiarism. The comments show that, while Gomez and Hailey publicly requested that the debate end, some corners of the internet are still trying to stir up drama.