Ariana Grande and Mac Miller began dating in 2016, three years after they collaborated on their hit song "My Way."
They were together for two years before splitting, and Ariana revealed that she had spent "years" trying to "support his sobriety" without success. Despite the fact that they were unable to form a romantic relationship, she maintained that she had "unconditional love" for Mac.
She described him as one of her "best friends in the entire world and favourite people on the planet" at the time. "Unconditional love is not selfish," Ariana added. It is wanting the best for that person, even if it is not you right now."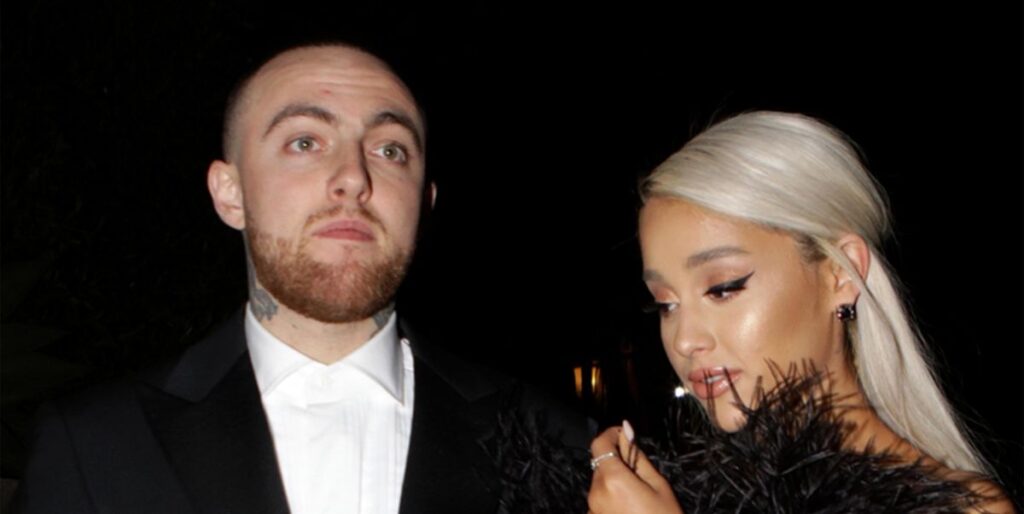 Mac died from a drug overdose in September 2018, and the pair remained on good terms until his death. Ryan Michael Reavis was sentenced to more than ten years in prison in April of last year for supplying the dealer who sold Mac the drugs.
Ariana has always been open about her grief over Mac's death. She wrote on Instagram shortly after the news broke, "I adored you from the day I met you when I was nineteen and I always will."
"I can't believe you're no longer here." "I just can't get my head around it," she continued. "We discussed it." numerous times. I'm so angry and sad that I don't know what to do. You were my closest companion. For so long, above all else. I'm sorry I couldn't help you or take away your pain. I was desperate."
Ariana described Mac as "the kindest, sweetest soul with demons he never deserved." I hope you're doing well now. rest."
Ariana said in an interview with Vogue nearly a year after Mac died, "He was the best person ever, and he didn't deserve the demons he had." For a long time, I was the glue, and I found myself becoming… less and less sticky. The pieces just started to float away."
Since then, the actress has worked hard to keep the rapper's memory alive through her projects, with sweet tributes to him appearing in both her makeup line and music.
Ariana named-checked Mac in her hit single "Thank U, Next" in November 2018, just two months after his death, using his legal name Malcolm McCormick.
Ariana sings of her former lovers, "Wish I could say 'thank you' to Malcolm / 'Cause he was an angel."
Fans noticed more Mac references when Ariana released her album, Thank U, Next, in February 2019, with many listeners taken aback by her vulnerability in the eighth track, "Ghostin."
This heartbreaking song describes Ariana's complicated feelings as she grieved for Mac while in a relationship with Pete Davidson.
Ariana and Pete began dating in May 2018, but ended their relationship in October of that year as she struggled to cope with her loss.
Pete later revealed to Charlamagne tha God that he knew his and Ariana's relationship was over the moment he learned of Mac's death.
According to the comic, he supported her as best he could until she no longer wanted him around.
Pete recalled at the time, "I think I said, 'I'll be here until you don't want me to be here.'" "I had a feeling it was over after that." That was horrifying, and I can't even imagine what that shit is like. All I know is that she loved the shit out of him and wasn't putting on any sort of act."
And Ariana acknowledges this in "Ghostin," where she praises Pete for being "so understanding" and supportive of the situation while admitting that she knows it hurts him when she keeps crying about her ex.
"I know you hear me when I cry / I try to hold it in the night / While you're sleepin' next to me / But it's your arms that I need this time," she sings elsewhere.
Ariana later admits in the song that she wishes Mac was with her instead of Pete, but she doesn't want Pete to know.
Ariana admitted in an interview shortly after "Ghostin" was released on her album that she didn't want it made public.
In fact, the singer stated that she was "pleading" with her manager, Scooter Braun, to remove the song from the playlist because it is so emotional and personal to her.
Ariana said of "Ghostin" during a 2019 appearance on the Zach Sang Show: "It was a lot." It was actually too much. Scooter was literally begging me to take it off. 'You're thinking too hard now,' he said. This is something special, and you should share it with everyone."
"I was like, 'I'm just going to let go,'" the singer continued. "I wanted to remove a couple of songs from the album." But I ended up keeping the majority of them."
This interview recently resurfaced on TikTok, and fans are outraged that she was forced to release such a personal and vulnerable song to the world.
Some admitted that they can't even listen to "Ghostin" because it's too invasive, and Scooter was accused of being "disrespectful" and exploiting Ariana's trauma.
"Beautiful song, but scooter is the worst for pressuring her to keep it on the album even though she didn't want to," one person said. "I feel so bad for her," said another. The meaning of ghostin is sad and personal, despite its beauty and uniqueness. I despise pushy people, such as scooter."
"Ghostin is one of my fav songs like I love it sm but he should've taken it off, like that's wrong and so disrespectful of him," someone else said.
"I love ghostin, but I feel like if someone doesn't want to release something that personal, they shouldn't have to," said another.
"It feels so personal and intimate because it literally felt like she let us read her journal or something," said another of the song's listeners. "It makes me so angry that he did that, you can hear the pain in the song," said another.
"I always skip this song bc it felt too personal and I felt like I invaded het privacy listening to ghostin:(," one fan admitted.
"She was traumatised, and he used it to sell records," another said of Scooter. "I hope she leaves him and finds someone who cares about her mental health, scooter capitalised on her trauma," said another.
Scooter has been Ariana's manager since she signed with him in 2013, and by 2016, he was handling every aspect of her career.
However, Ariana fired him for six months in 2019 after he allegedly overstepped the mark in her personal life.
"He definitely gets involved in his clients' business and personal relationships," a source told US Weekly at the time. Ariana fired him at one point because she was fed up."
Scooter addressed this, as well as his and Ariana's subsequent reconciliation, in an interview with Variety, blaming one of Ariana's boyfriends for his job loss.
"When shitty boyfriends leave, she starts to see the light on some stuff, and one day I got a phone call," he said, without revealing their identity.
"I went over there, and we had a very open discussion." "It made me a better manager," Scooter continued. "For one thing, it taught me that I could be fired — I had never been fired before."
Ariana is currently working on a film adaptation of the Broadway musical Wicked, which will be released next year.