Jake Paul recently congratulated Lionel Messi and Argentina on their World Cup victory in 2022. However, he believes that Kylian Mbappe is destined to dethrone the Argentine as GOAT in the future.
Argentina faced Kylian Mbappe's France in the FIFA World Cup final this past weekend, in what has been described as the most entertaining final in the competition's history. The South Americans appeared to be on their way to a 2-0 victory thanks to Messi and Angel Di Maria goals, but Mbappe responded with two goals in three minutes to force extra time.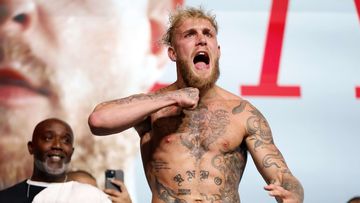 Argentina thought they had won the match yet again after another Messi goal, but a second penalty for Kylian Mbappe gave the 23-year-old a hat-trick and the match went to penalties.
Argentina eventually prevailed in the shootout. Many believe Messi, 35, has finally cemented himself as the sport's GOAT, finally holding the trophy that had eluded him. Jake Paul, a fan of Premier League club Liverpool, wrote in a now-deleted tweet:
F ME! Mbappe the greatest to ever put on the cleats 🫣.

— Jake Paul (@jakepaul) December 18, 2022